Cowries Divination & Omenology Workshop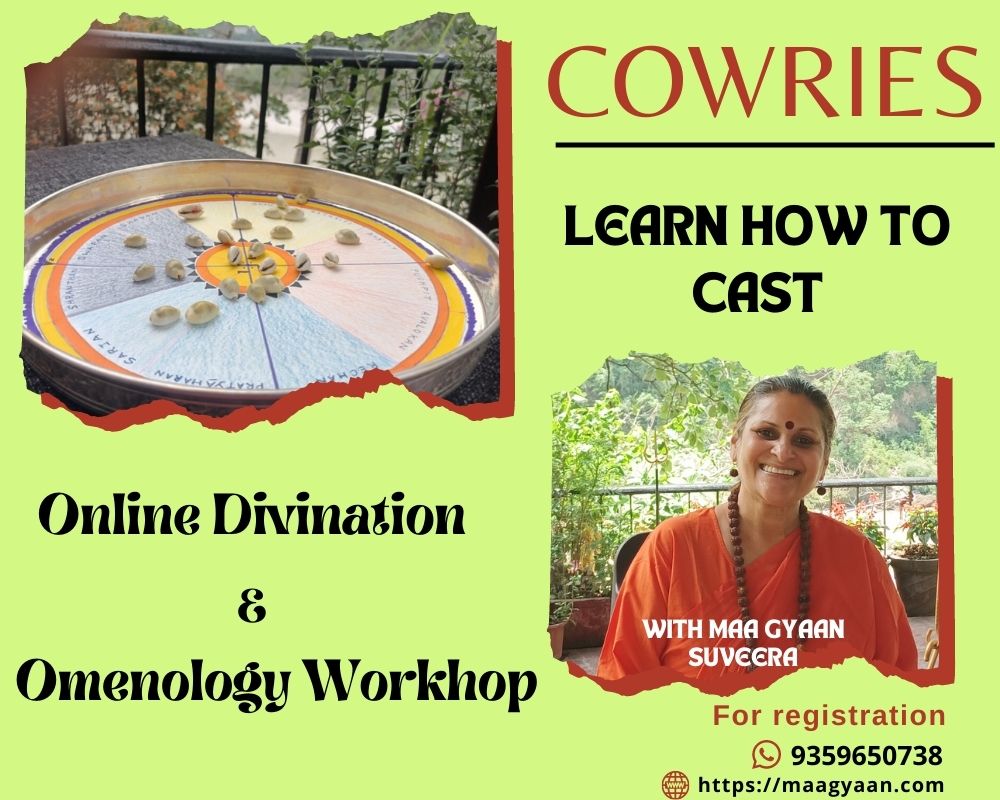 Gyaan Cowries represent the protection field of Goddesses , and is a highly powerful tantric divination tool. They have a deep connection with the strength and power of the Ocean and the moon. The Laxmi cowrie +24 supporting cowries, give a mapping of grace + karmas+ free will in a given situation.
Explore various traditions associated with the cowries divination with Maa Gyaan Suveera. Learn simple spreads for answering questions,  get clarity and clear directives through wisdom and knowledge…
Maa Gyaan Suveera is a Mystic Himalayan Master, a gifted yogini, and a spiritual Life Coach. She lives in Kirti Hermitage by the banks of the holy Ganga in Rishikesh. Maa uses Vedantic tools to guide people on wholistic wellness. 
Introduction to the system of casting cowries for divination
Traditional Indian methods of using cowries
Initiation & learning the powerful tantric ganapatya tradition of cowries divination ( this is the main study course)
Setting the energy field & preparation
Invocation mantra and vidhi to sanctify the cowries
Ethics and thought guidelines
Casting and Observing omens
List of omens associated with the cowries reading
Short readings and elaborate readings
Practice session with students
7th Jan 2023, Saturday, Time: 1:30 Pm and 4:30 Pm
8th Jan 2023, Sunday, Time: 1:30 Pm and 4:30 Pm